Regular price
$0.00
Sale price
$74.97
Unit price
per
Sale
Sold out
Why Choose a Screen Hanging Light with Asymmetric Light Source?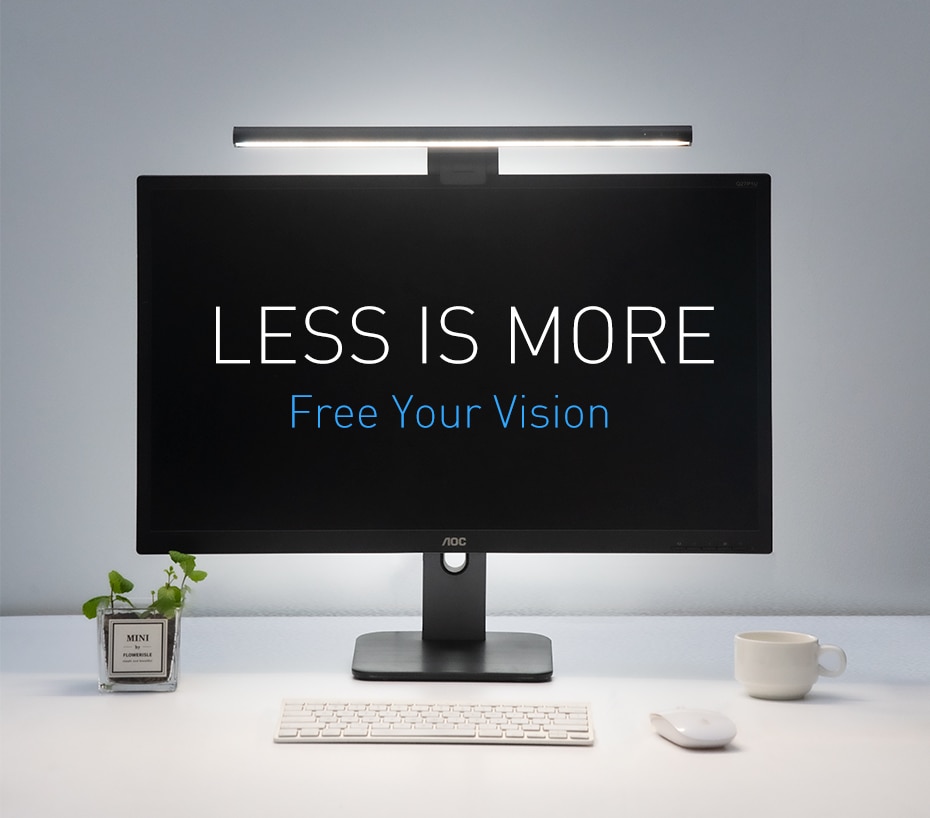 When working all day, Don't abuse your eyes
Research shows that we work on the computer for an average of 5.7 hours each day. Staring at the screen for so long causes eye irritation.
To eliminate this discomfort, enough rest helps, but the key to relieve eye strain is sufficient lighting.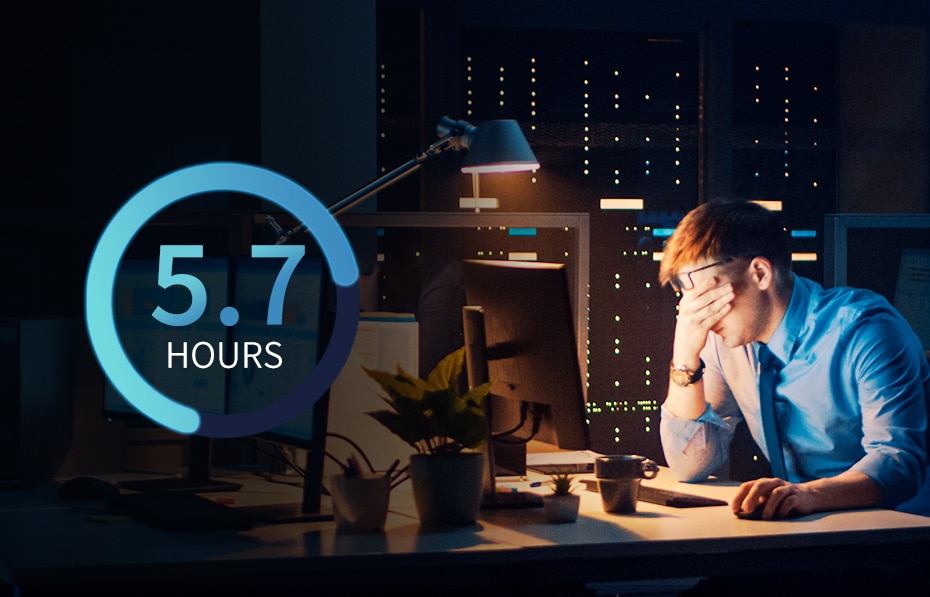 To work at night, we need enough lighting. However there are problems with traditional lamps.
Using normal desk lamps when using a computer can easily cause reflections on the screen. Baseus screen hanging lamp uses an asymmetric light source to illuminate from top to bottom, which will not cause screen reflections and do a better job.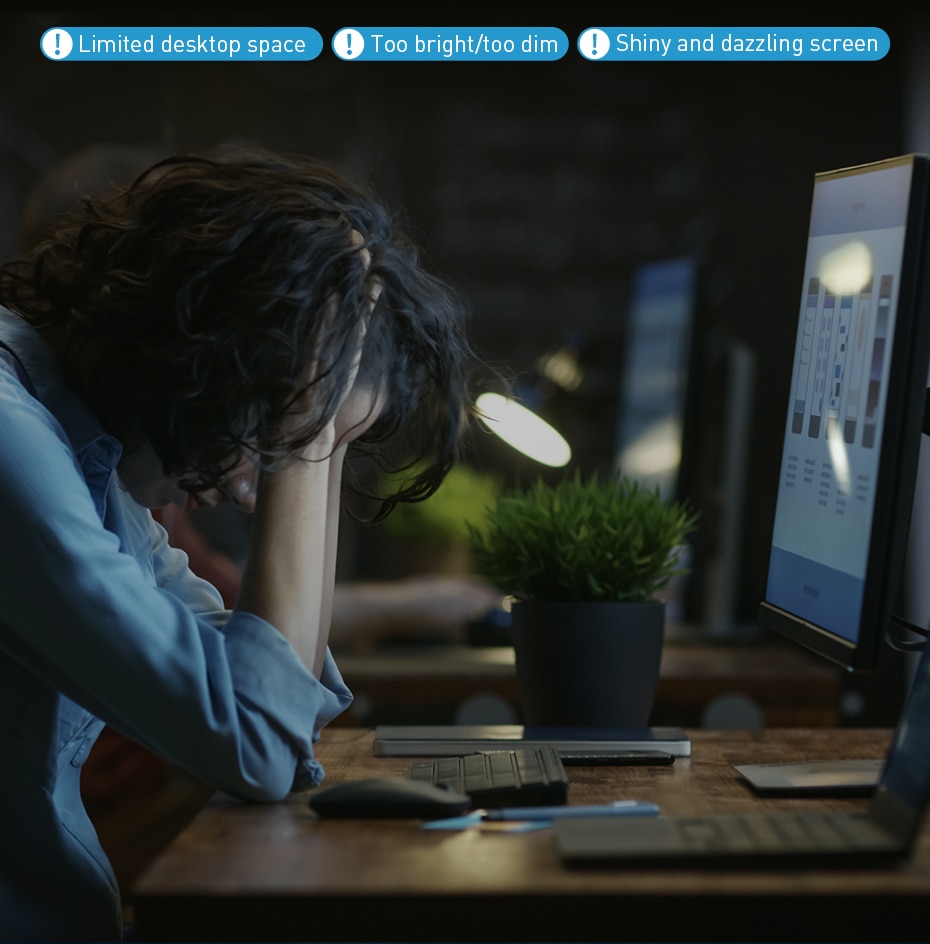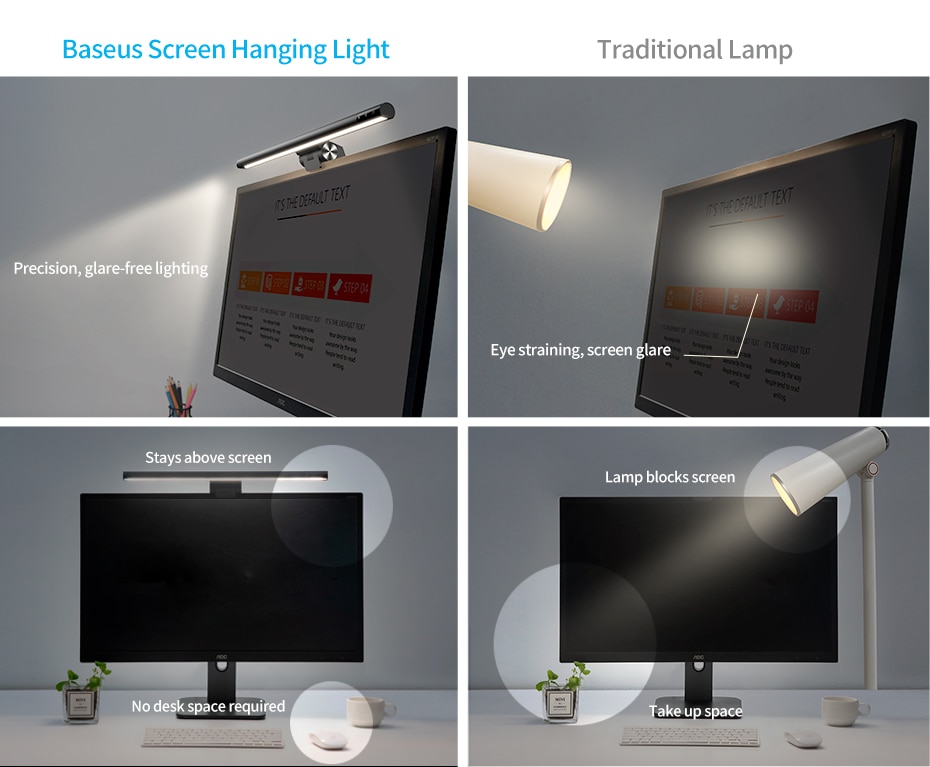 Asymmetric Light Source Screen Hanging Light (Youth)
Stay up All Night Without Hurting Your Eyes. Screen Hanging Light as First Choice.
Features: Anti Blue Light I No glare I Three-level color temperature I Stepless dimming I Occupying little space I USB power supply I Light memory function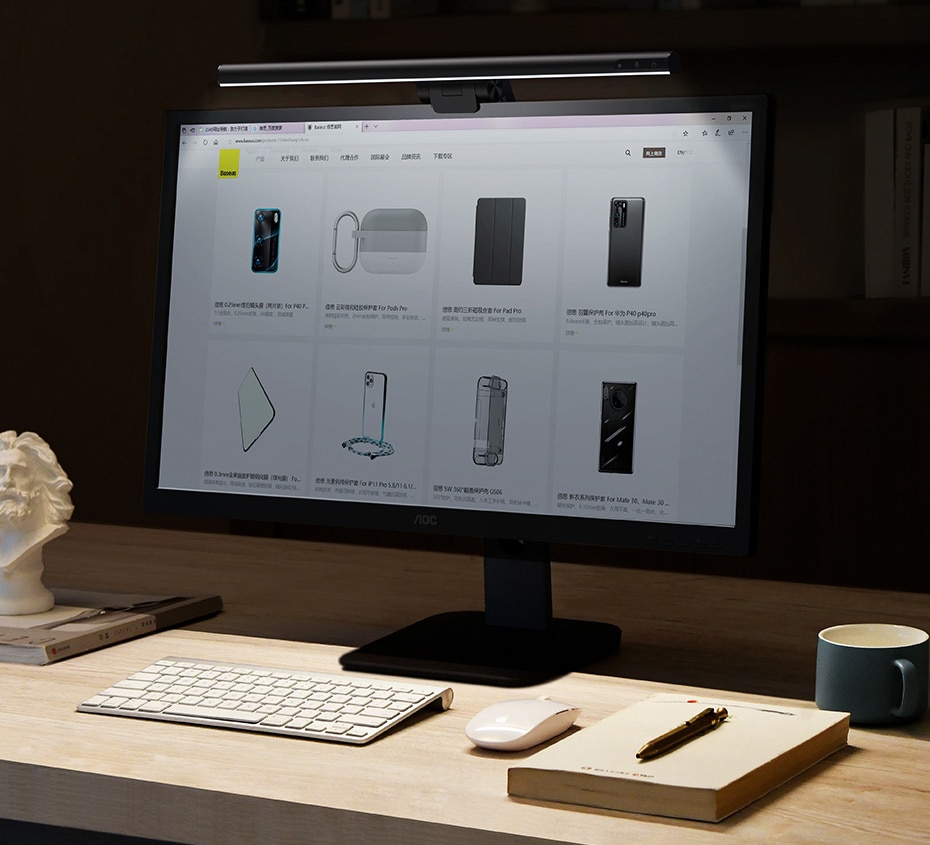 Product information
Applicable screen thickness: 8mm-20mm
Applicable to curved screen: No
Material: Aluminum alloy+PC+ABS
Light source: Asymmetric light source (close to daily light)
Weight: 480g
Size: 450*92*66mm
Rated power: 5W(max)
Input voltage: 5V
Asymmetric Light Source Design
Baseus i-wok screen hanging lamp adopts asymmetric light source design, illuminate the desktop rather than the screen. No glare better for eye protection.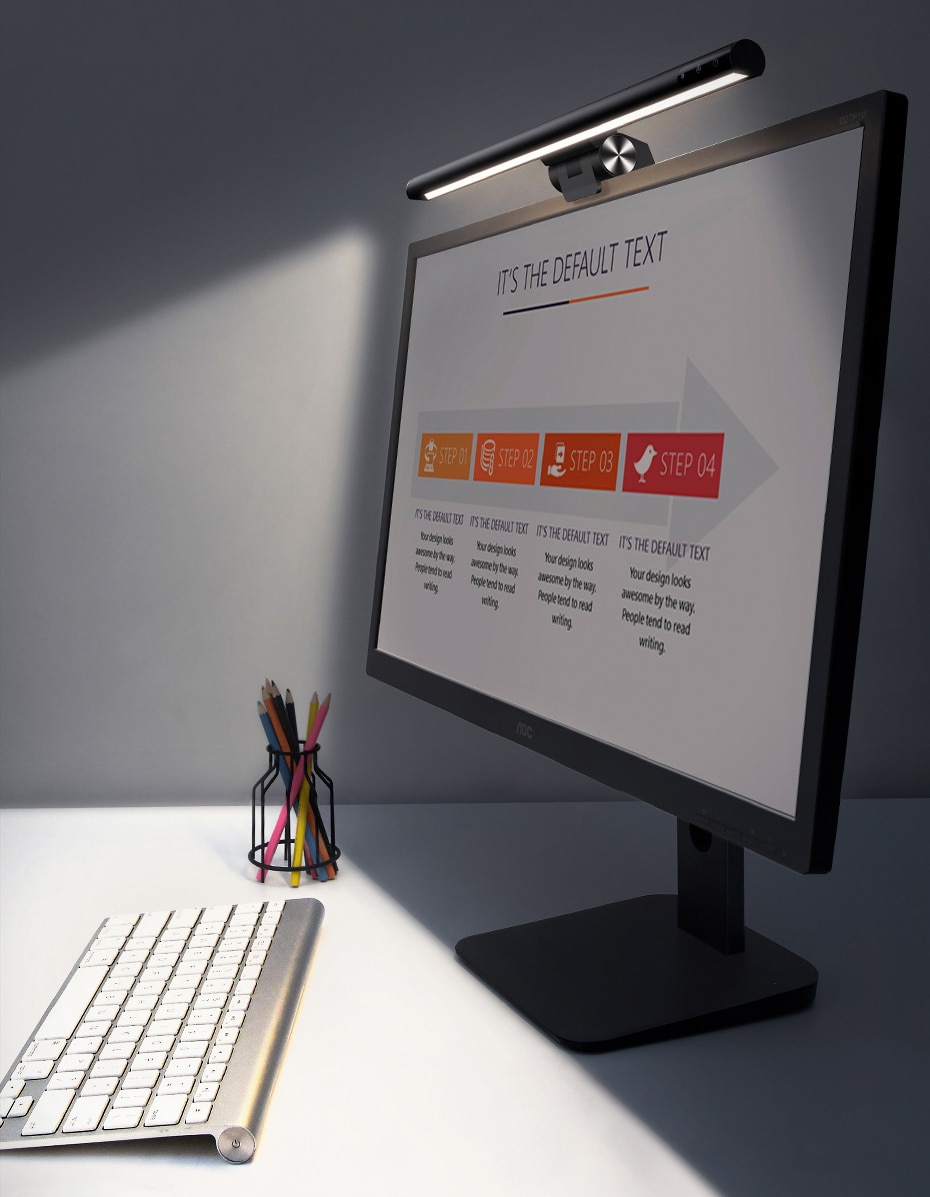 The refraction path of the new Baseus screen hanging light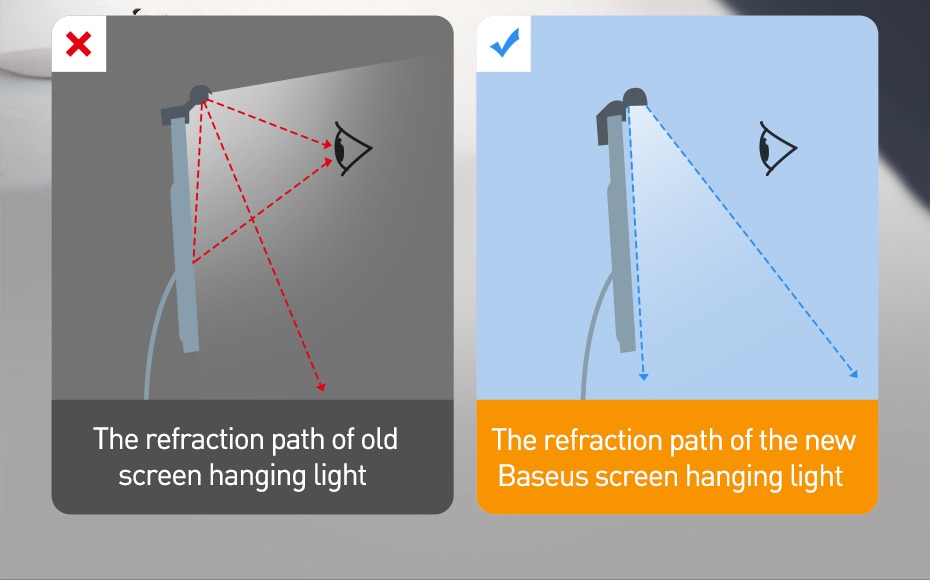 Directional Lighting. Focus on Lighting up the Desktop
Straight LED Light source for a wide illuminated area without dead corner. The lamp body is designed with an inclination angle to illuminate the keyboard and documents in front of the screen.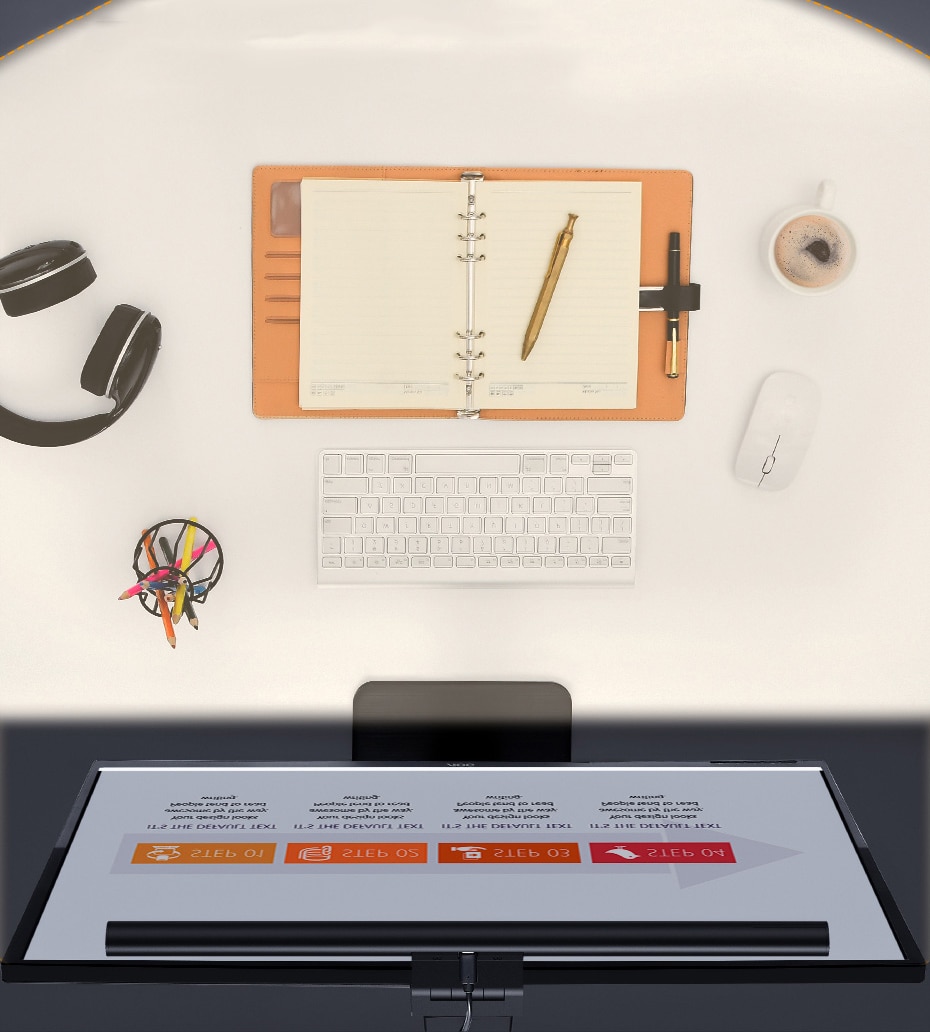 No Blue Light Hazard, No Stroboflash
80 built-in high-quality lamp beads to reduce blue light hazard, No visible stroboflash to better protect eyes.Good light protects your eyes for higher work efficiency when stay up late.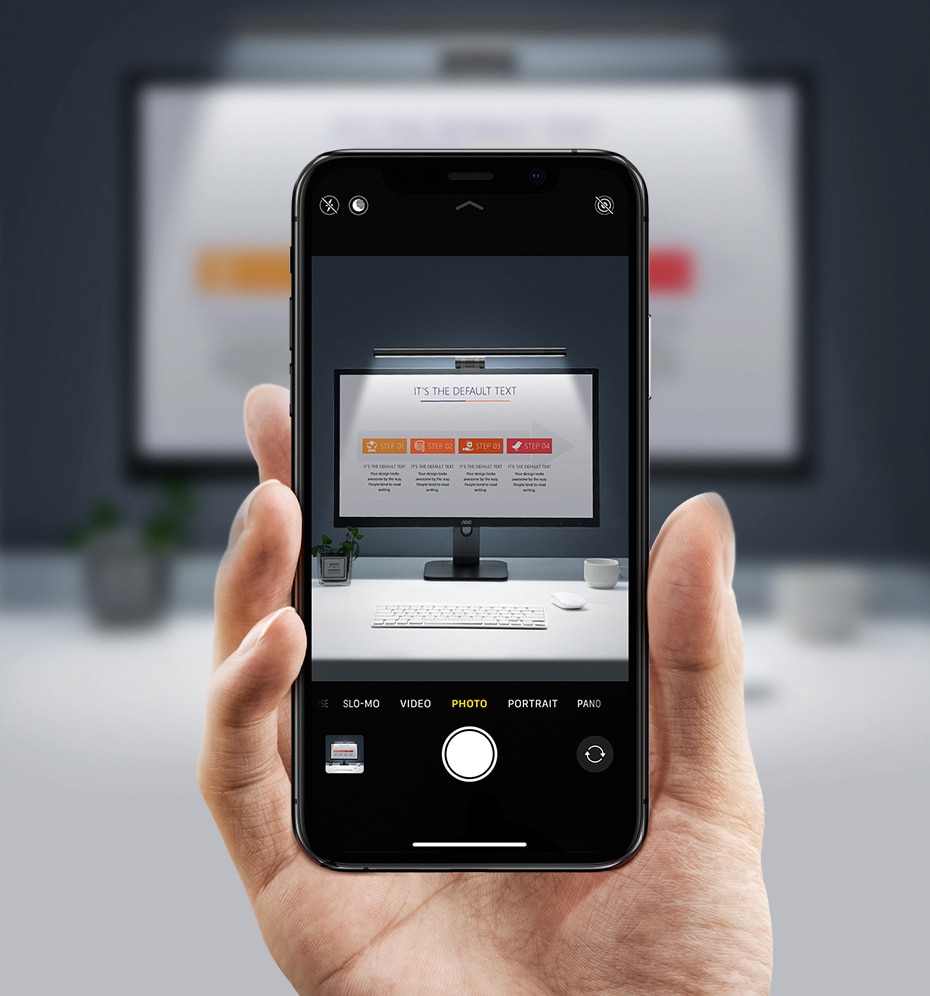 Simple Installation. No Base for Saving More Space.
The coil spring structure can be easily fixed on the edge of computer screen. The gravity base guarantees stability when rotate to adjust the illumination angle.
(Suitable for screens of 8mm-20mm thickness)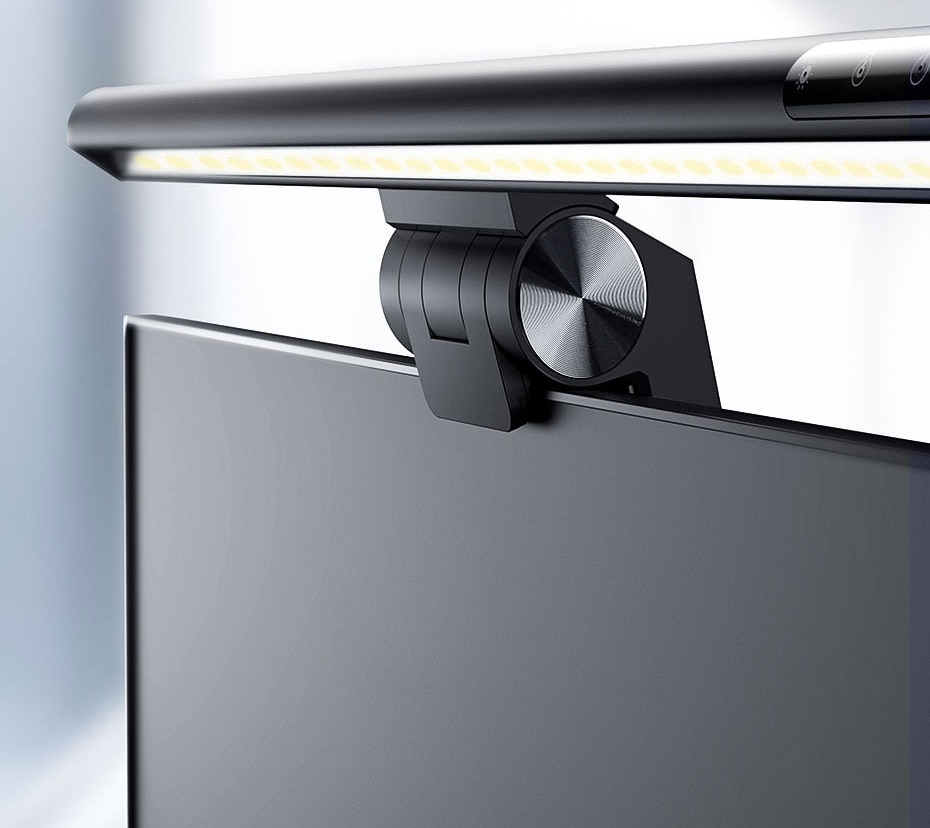 lt is recommended to choose Baseus screen hanging light [striving edition] for some old-fashioned screens which are over 20mm thick or have a backboard with a large inclined angle.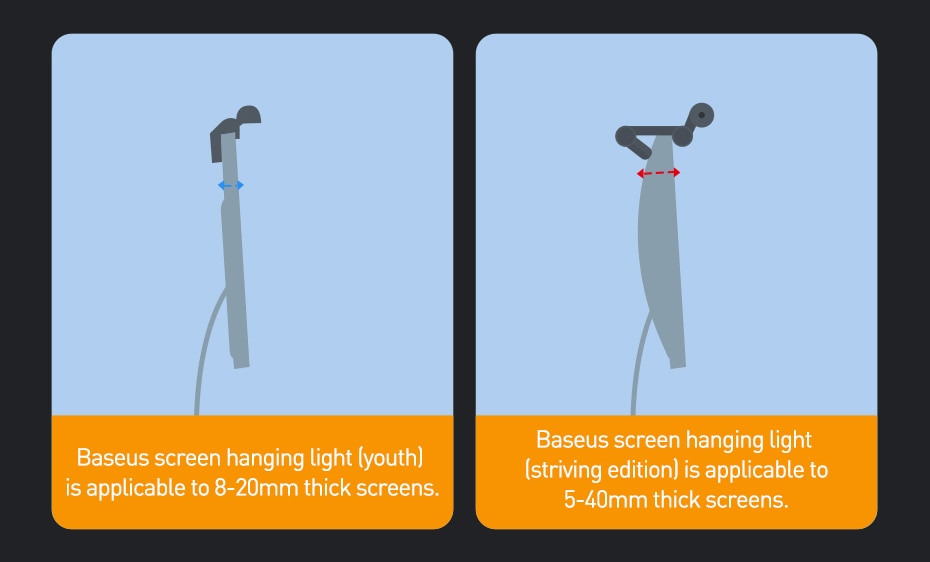 Stepless Dimming. Adjust Brightness at Will
Touch the button to adjust the brightness to match your needs freely and take care of your eyes anytime anywhere.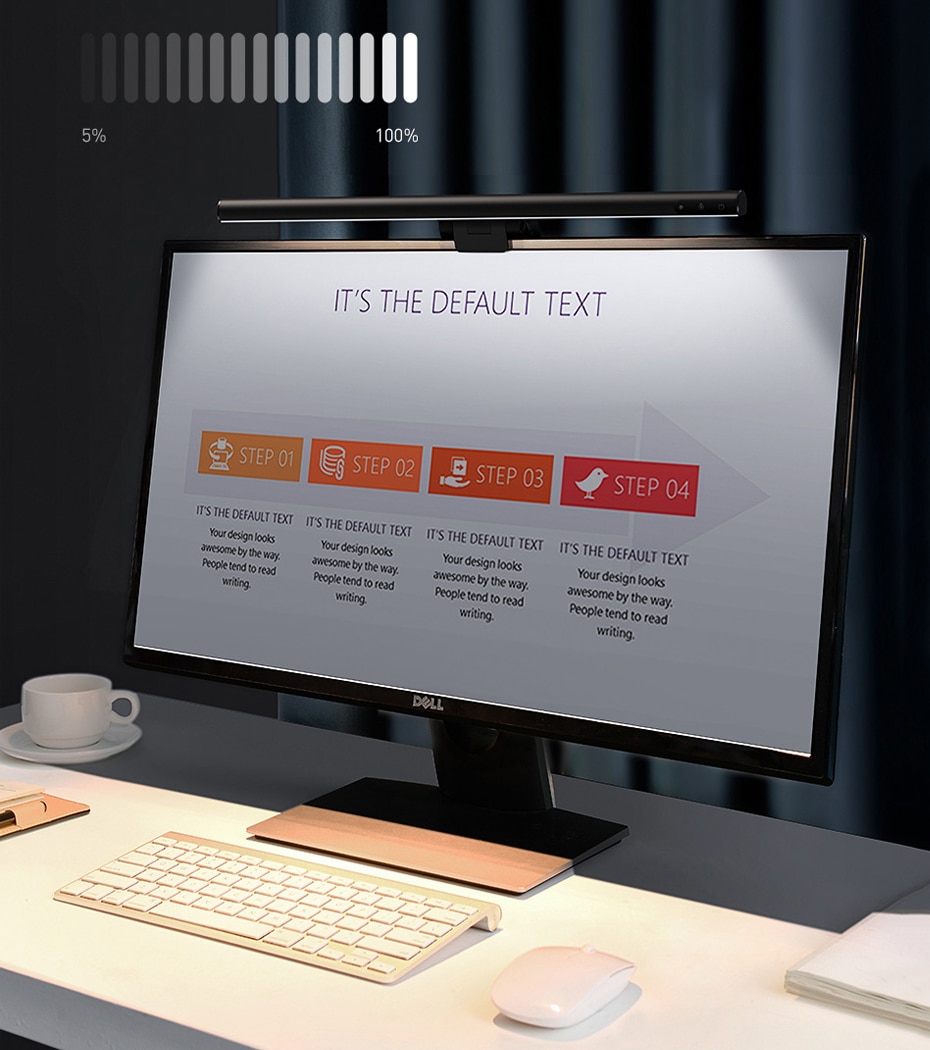 Three Color Temperatures
Three modes of white light, warm Light and mixed Light with a wide range of color temperature to meet the needs of different scenarios.
White light (5500K): Clear lighting for work efficiency
Mixed light (4000K): Neutral color temperature for reading
Warm light (2800K): Soft light for watching a movie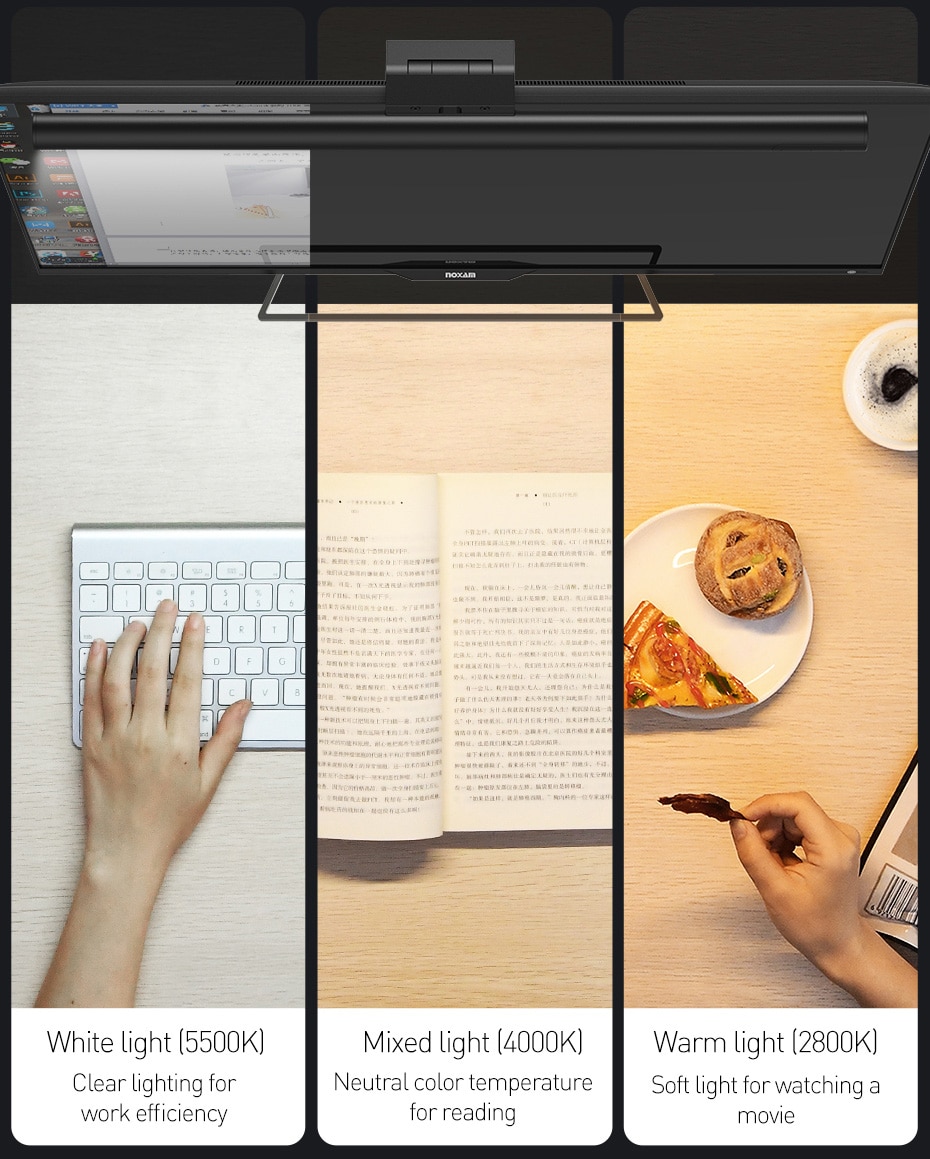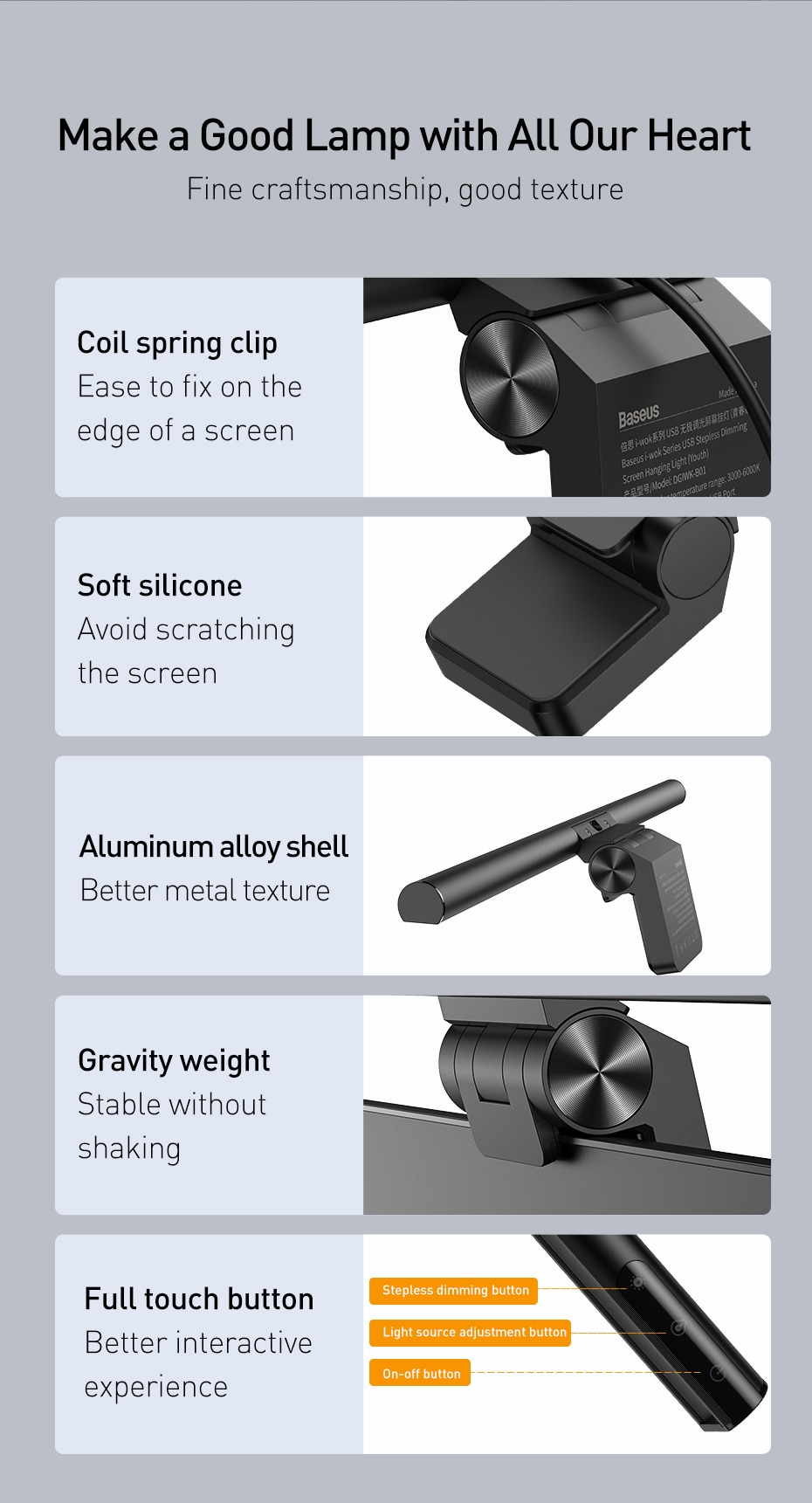 Power Supply Through USB Interface. Light up when Connect to a Computer
The Type-c charging port on the back of the lamp can be connected to a computer, a charging head or a power bank through the original charging cable.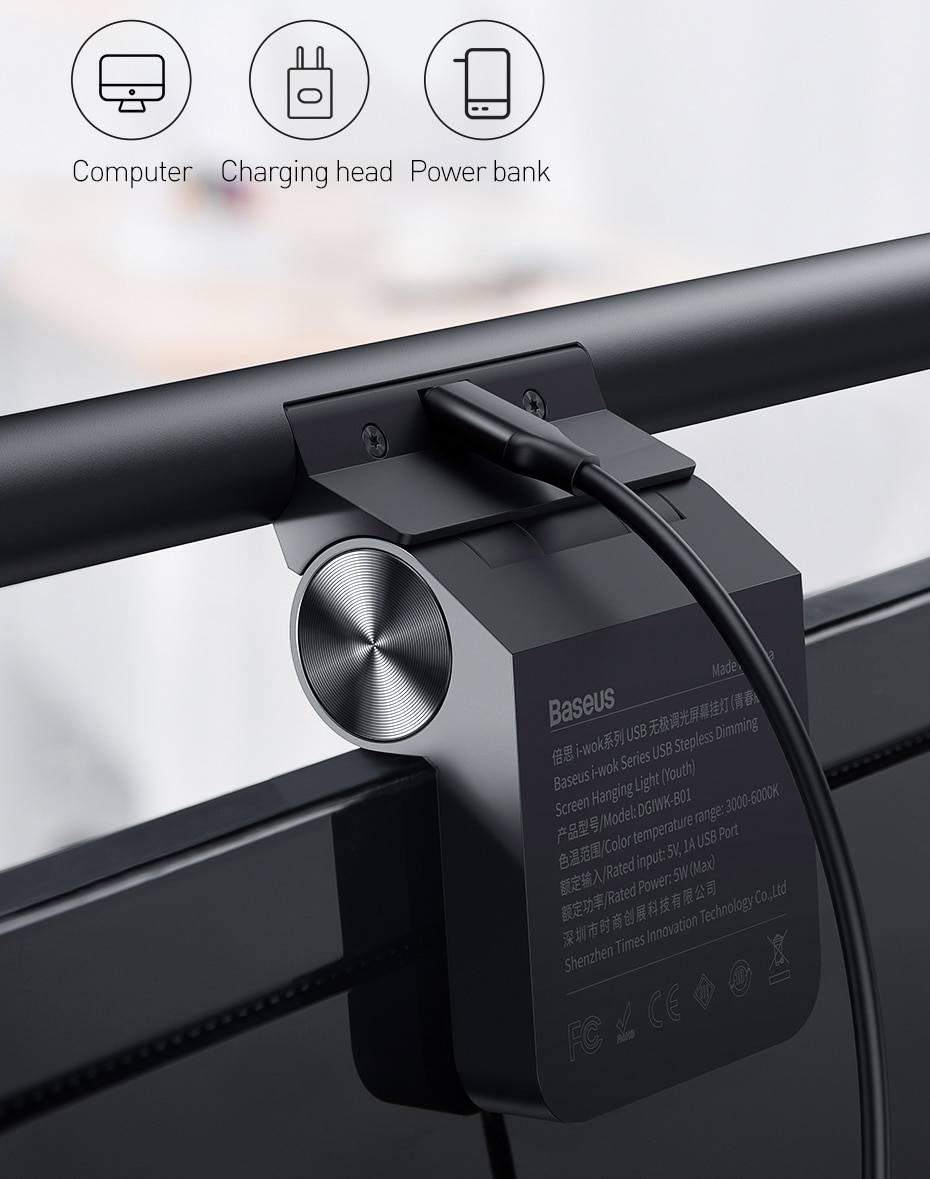 Stay up Late to Work Overtime, Work More Efficiently With It
Brightly illuminate the office area to do things more efficiently.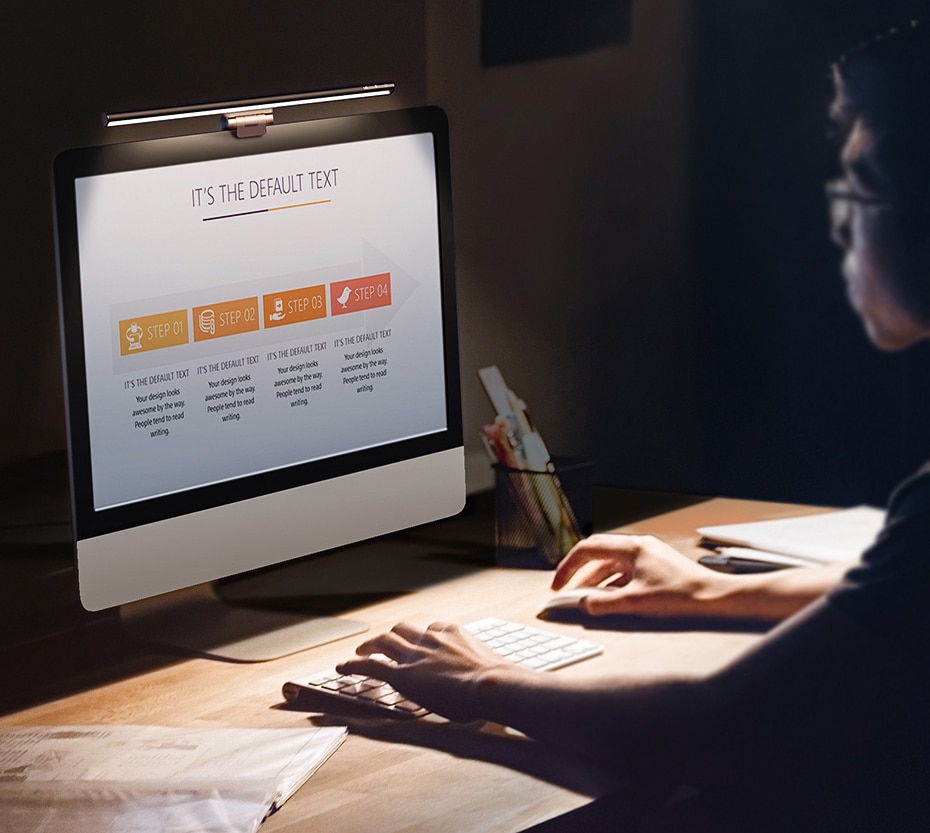 Stay up All Night to do Homework in the Dormitory, Turn on a Good Lamp
For design drawings/ teaching PPT/end of course reports a good lamp gives more space to tap your potential, and does not affect your roommates.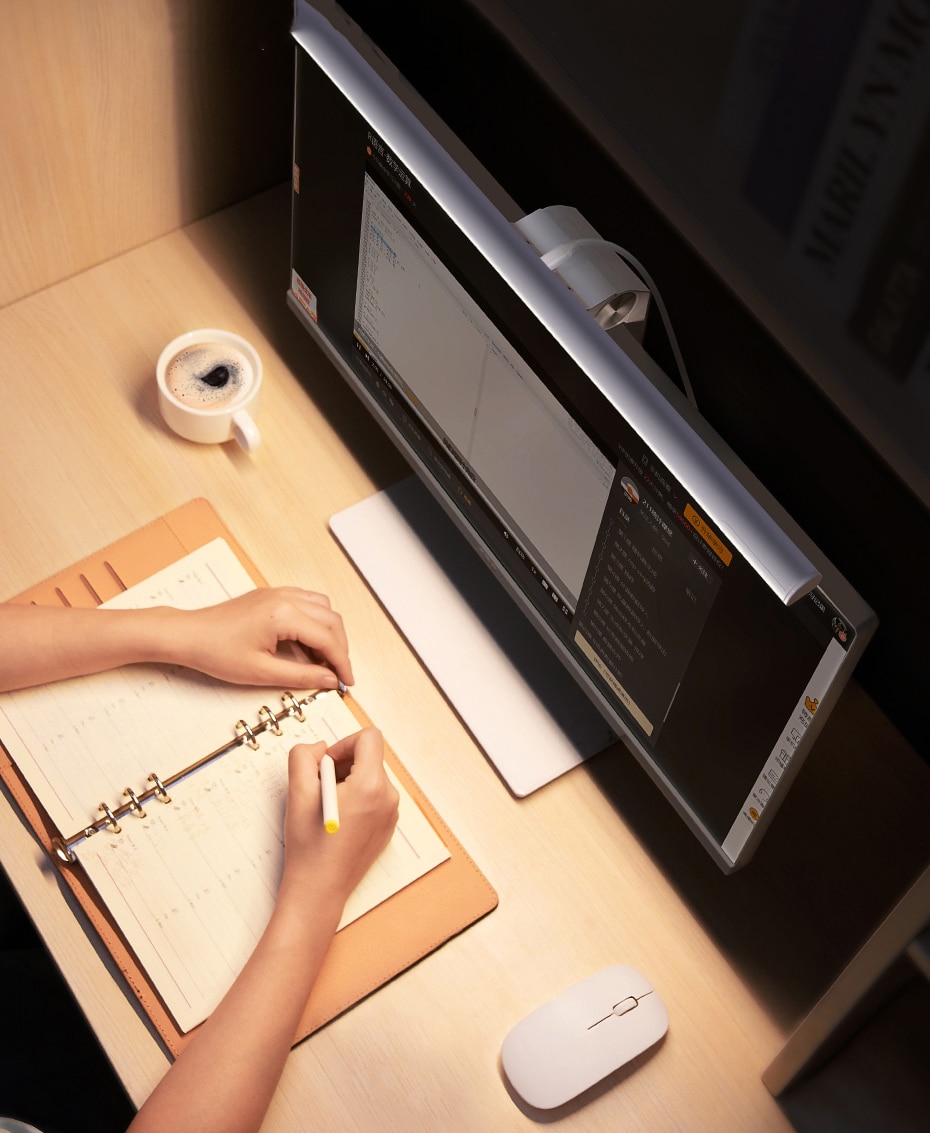 Stay up All Night to Play Games. Say Not to Operation in the Dark.
Blind operation is not required as keyboards and mouses, can be clearly illuminated to better enjoy games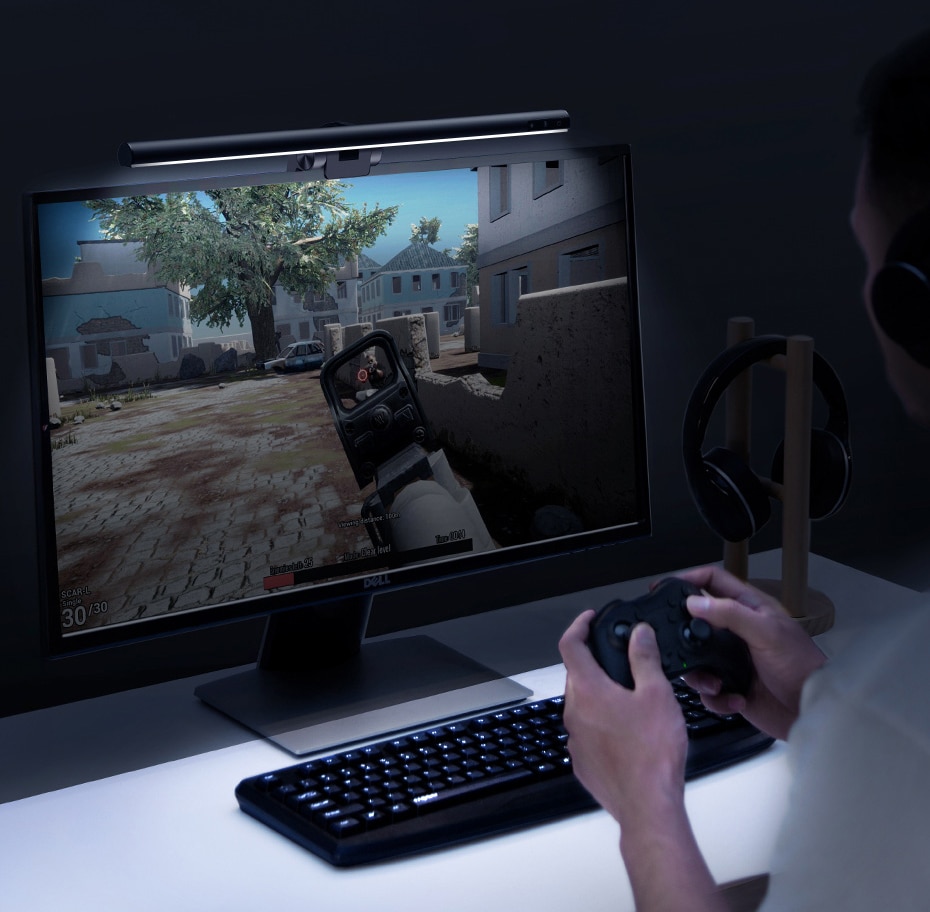 Size
i-wok Series Asymmetric Light Source Screen Hanging Light [fighting] Pro
Brand: Baseus
Suitable for screen with the thickness of 5- 40mm
Material: Aluminum alloy+ABS+PC
Color: Black
Rated voltage: 5V
Rated Power: 5W (Max.)
Light source: LED
Number of LED: 80
Color rendering index: >97
Color temperature: 3000K- 6500K
Lumenvalue: 160LM
Operating temperature: -10°C~ + 40°C
Net weight: 480g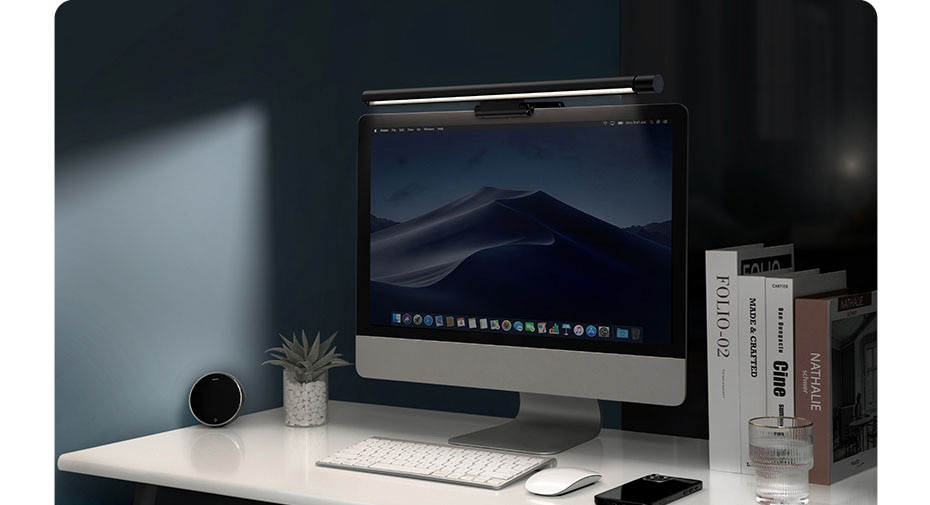 Features
Asymmetric Light Source / Full Spectrum LED /Stepless Adjustment / Light Color Memory / USB Power Supply / Ra 97 Show Real Color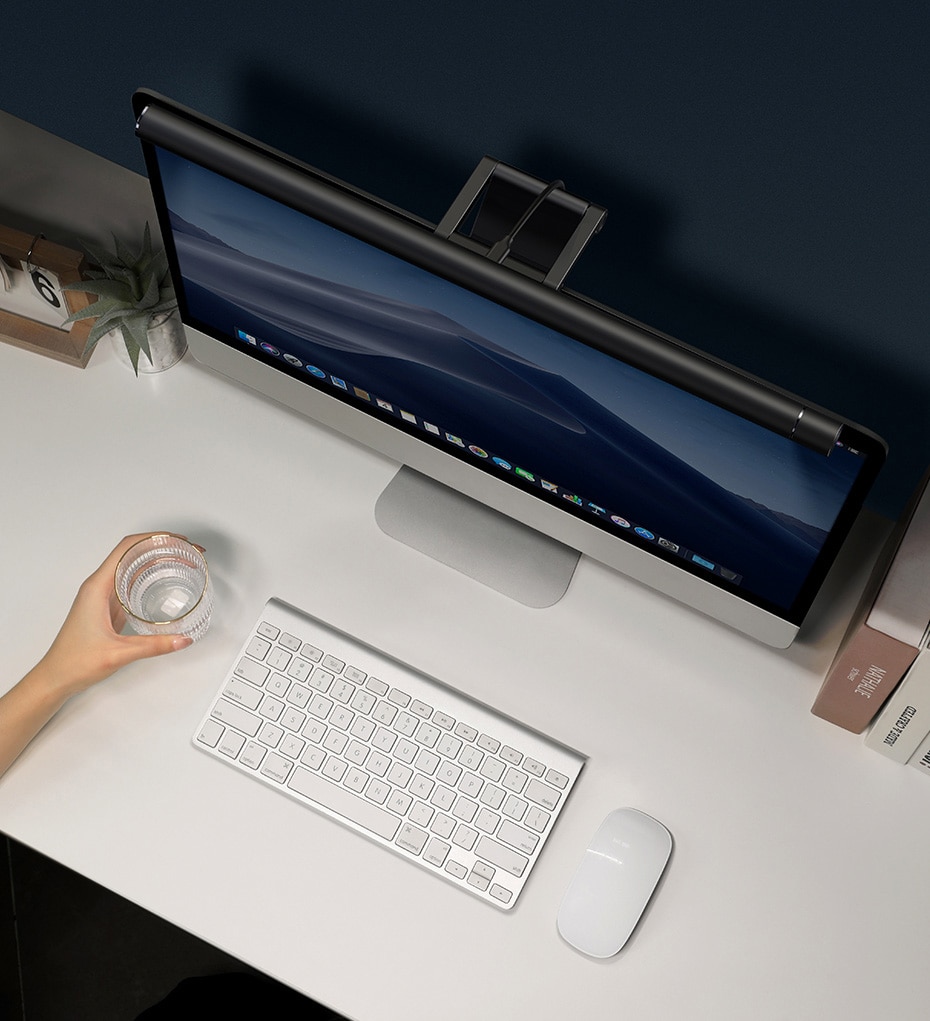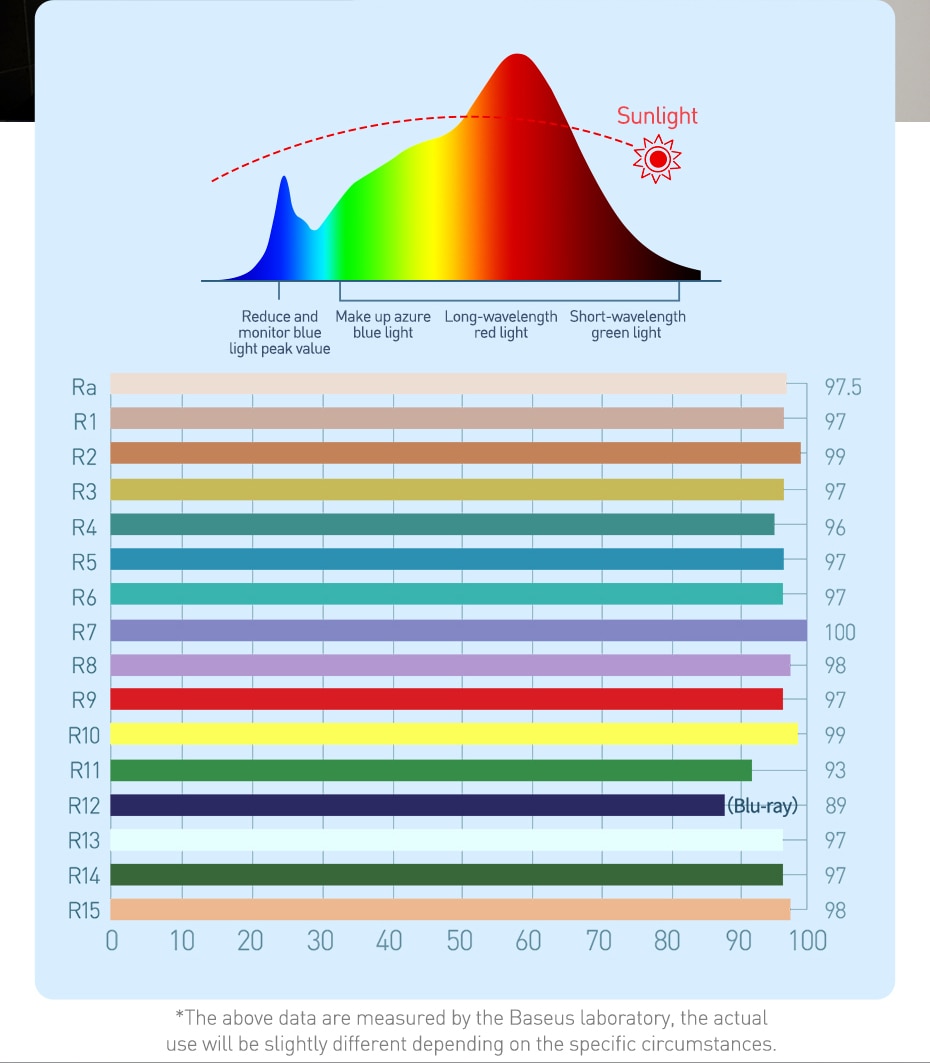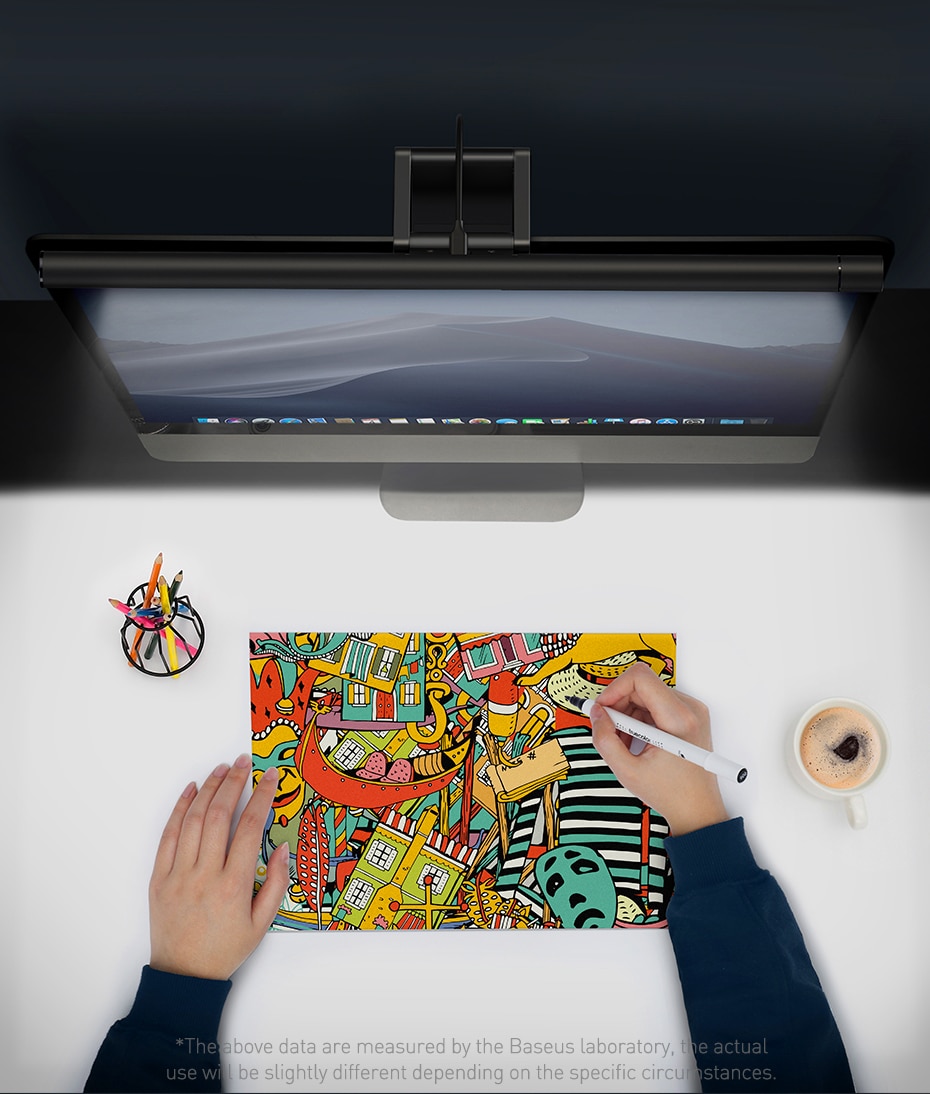 Fix in 1 Second , Save More Space Without Base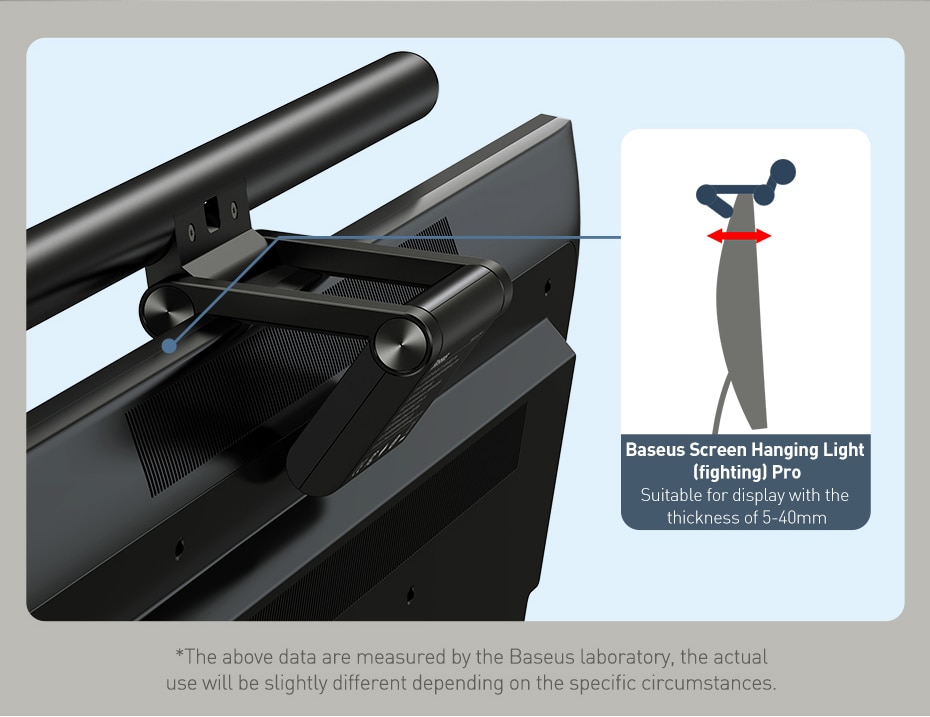 Use the knob to adjust the brightness for different people's demand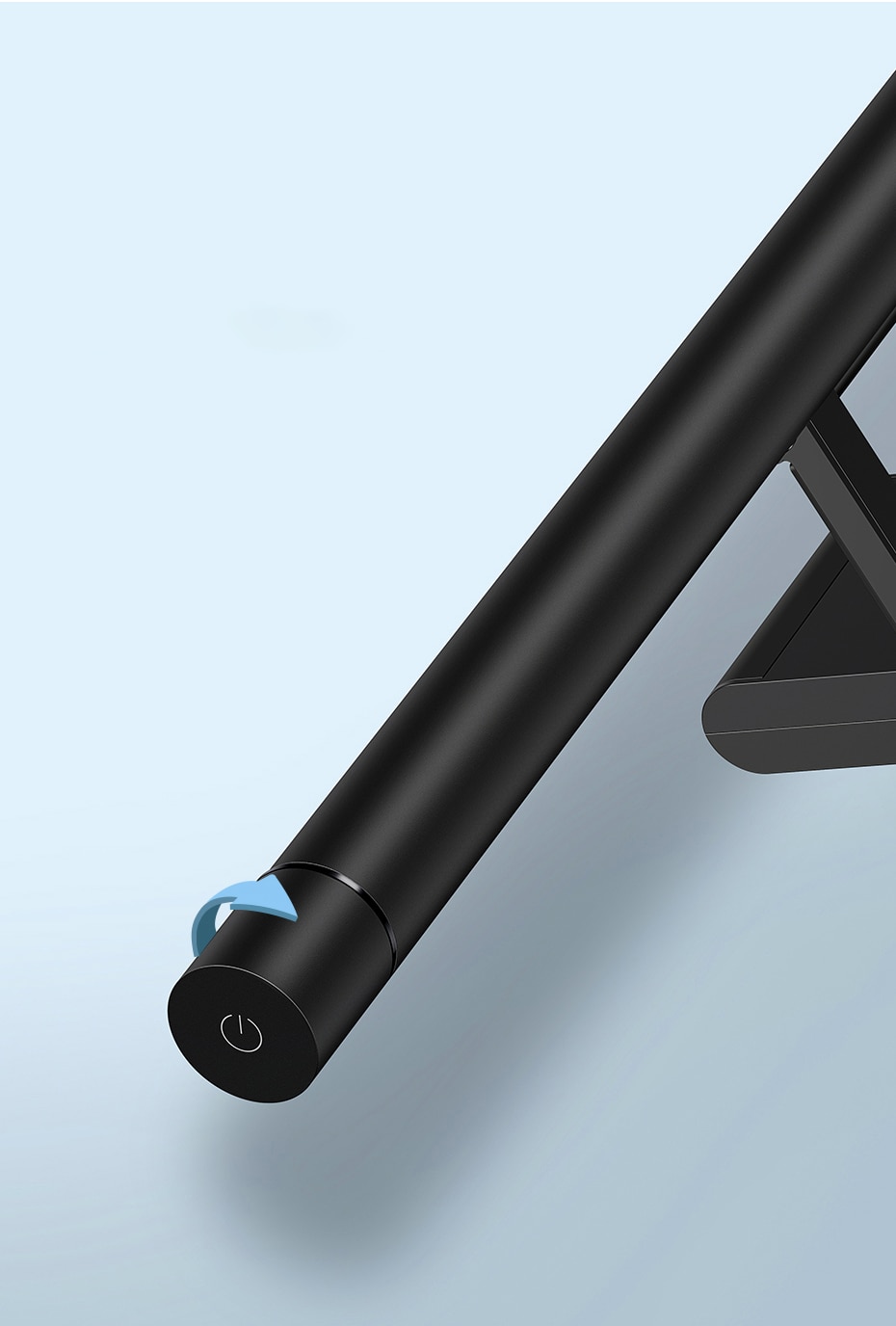 Package Display
1*Lamp, 1*USB power cable, 1*manual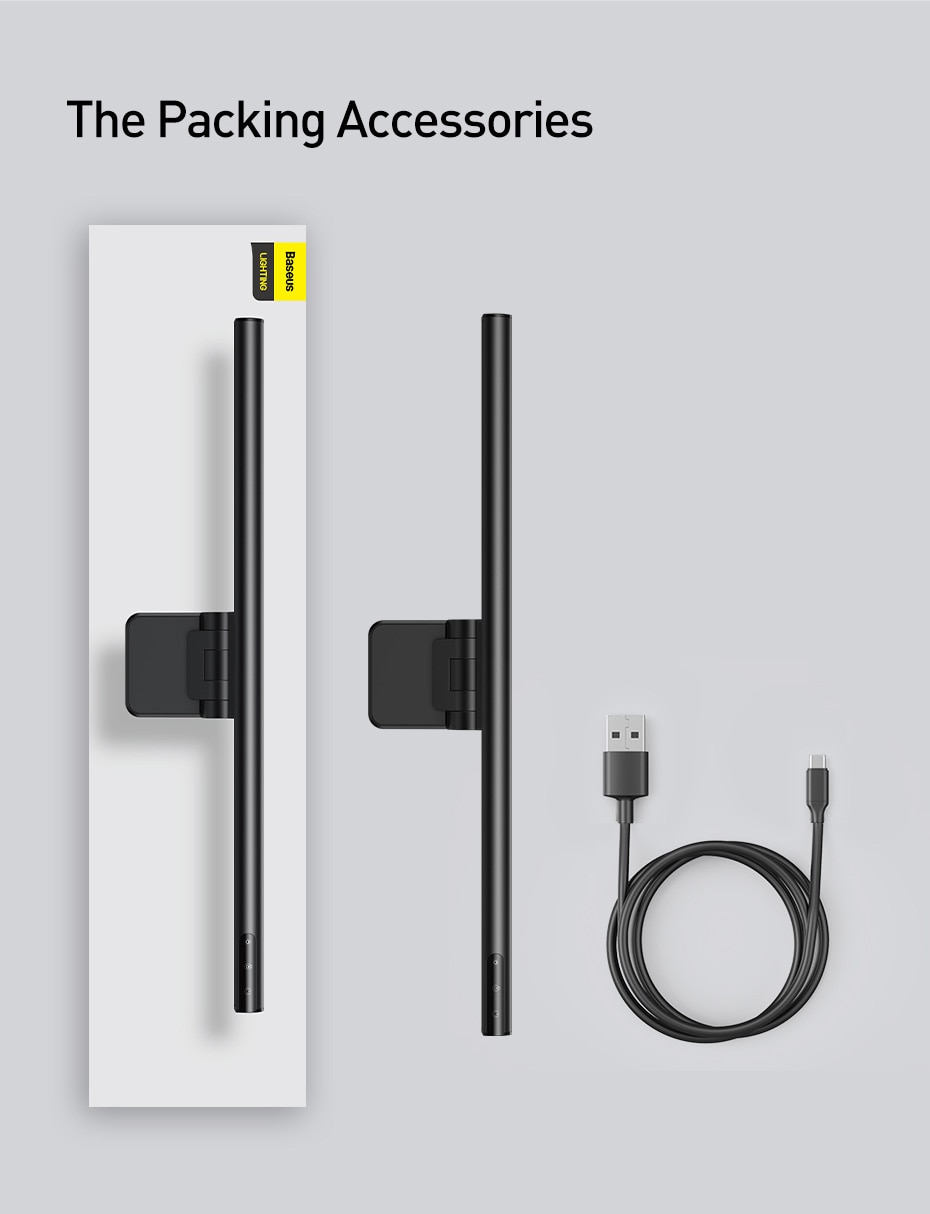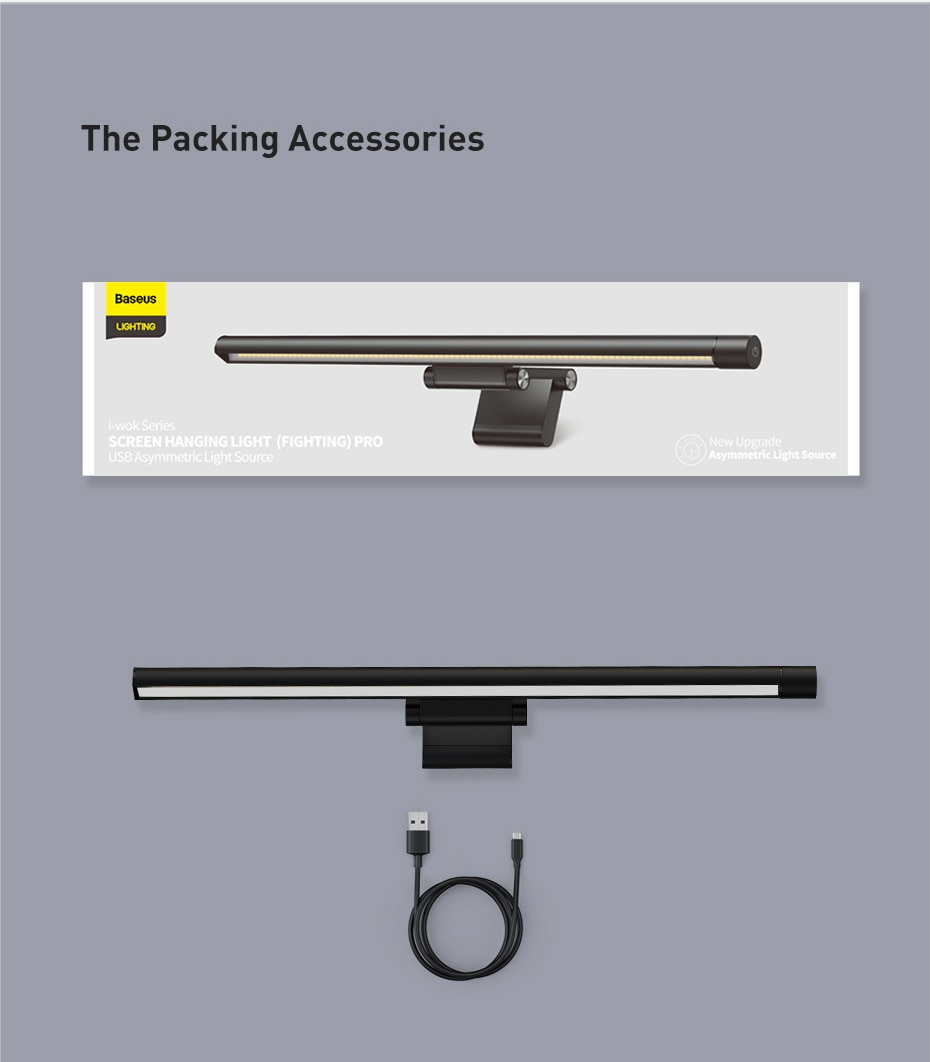 Q&A
1. About USB power supply?
A: This product is equipped with a 1.5m USB to Type-C power cord, which can be powered by 5V adapter, including a computer USB, 5V mobile phone charger, power bank, and so on.

2. About light color memory function?
A: In the power-on state, the lamp has a light color memory function. When the power is unplugged or turned off, the lamp returns to the factory default white light state.

3. How to operate?
A: Click the switch button to turn on/off the light;
Long press the brightness adjustment button to adjust the brightness steplessly;
Click the color temperature button to adjust the color temperature;

4.Why doesn't the lamp turn on after installation?
A:Check whether the lamp is installed correctly (whether the computer is powered, whether the USB power cable interface is loose).

5. How much will the screen be blocked after installation?
A:0-5mm

6. What certification does the product have?
A: It has CE, FCC, RoHS certifications.

7. Is the product suitable for curved surfaces?
Answer: Suitable for curved screens.

8. Can it be used on the laptop?
A: Due to the heavyweight of the product, it is not recommended to use it on laptops;

9. Does the light produce glare?
A: The lamp can be rotated. The best lighting angle is that the light-emitting surface is parallel to the desktop and the lighting direction is perpendicular to the desktop; There is no screen reflection.
This product has no blue light hazard (RG0 exemption level), no visible flicker (exemption level), suitable for studying;

10. What is the difference between the Youth version and the Fighting version?
A: The youth version uses an asymmetrical light source, a clamp fixing method (using 8-20mm screen thickness), and a touch operation method;
The fighting version adopts a symmetrical light source and gravity fixation method (using 5-40mm screen thickness), and mechanical knob dimming operation.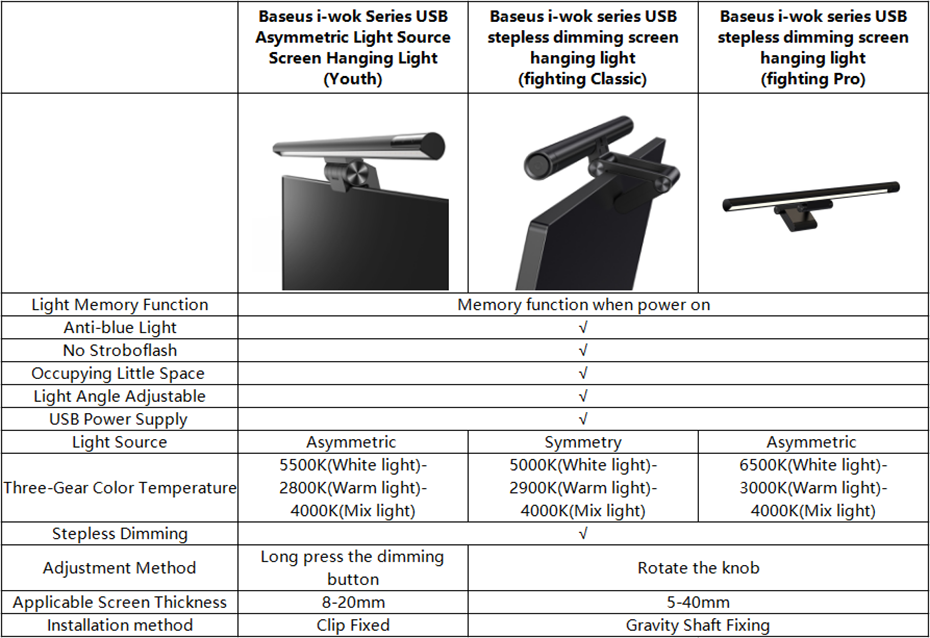 Share
View full details