Regular price
Sale price
$79.97
Unit price
per
Sale
Sold out
Smart ambiance lamp with music to make your day. A magical mood trigger to soothe your mind
WHY WE DESIGN SMART AMBIANCE LAMP
Finding true peace of mind becomes a goal we all aspire to in a world of hassles and distractions. It's not about the place we live or things we have, but a mood trigger to make us feel "just right."

We recognize the value of inner peace and your well-being. Hence, the ambiance lamp is created to make your home a mind-soothing and peaceful haven, providing calming, therapeutic effects for sleeping, studying, meditation or rest.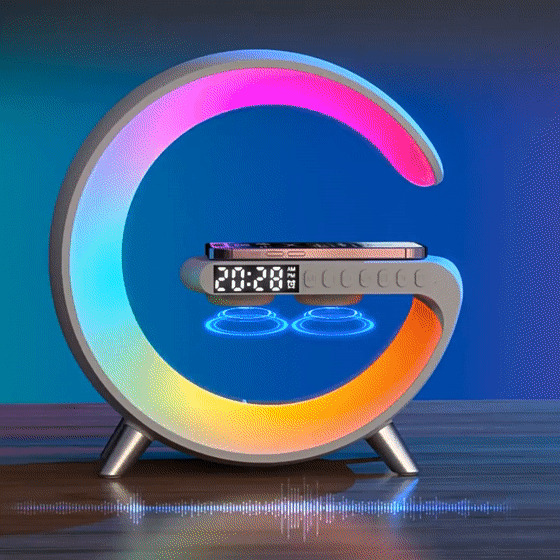 FEATURE
Alarm Clock
APP Control Light
Bluetooth Speaker
Phone Answering Function
Simulated Sunrise Wake-Up Light
16 Million Light Colors & 256 Light Modes
15W Wireless Fast Charging(Compatible with all smart devices that support wireless charging)

HOW HEALS THE MIND & SPIRIT
Lights & colors, as an essential part of our life, can profoundly influence our minds & bodies and trigger psychological reactions and hormonal changes. In chromotherapy, i.e., color therapy, color lights address specific needs such as creating positive energies or reducing anxiety. Instead of single-color lights, chromotherapy lighting is a harmony of colors, brightness, and intensity.
It features 16 million light colors and 256 light modes. Tap it to seamlessly switch between ambient lighting modes and customize your scene with adjustable brightness, stunning lighting effects, and vivid colors to perfectly match your mood.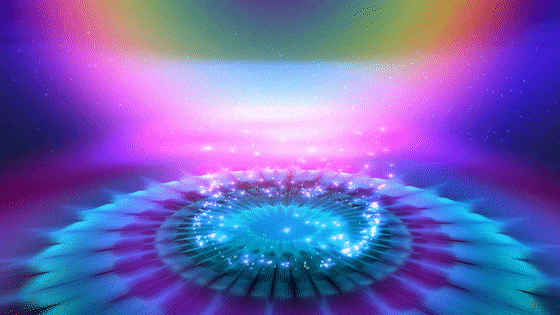 SYNC THE LIGHTS WITH YOUR FAVORITE SONGS
The lamp sounds just as good as it looks. A high-quality built-in Bluetooth speaker makes the perfect companion to your favorite songs and playlists with lighting effects that perfectly sync with your tunes. Turn on the lamp, sit back, and create a relaxed and atmospheric environment to unwind.
BETTER SLEEP & WAKING UP REFRESHED
It helps you rest better with helpful sleep features to calm the mind and body. In Sleep Mode, you can enjoy a peaceful night light or choose soothing white noise from App that softly sings you to sleep. When it's time to wake, Smart Ambiance Lamp starts your morning with a gentle wake-up light and up to 2 relaxing alarms.

NIGHT LIGHT WITH WIRELESS CHARGING
It takes care of you all night long. A single tap enables Night Light Mode, which gives you just enough light to accommodate moving around your room or late-night trips to the bathroom. It also keeps your Qi-enabled phone charged and ready for the day with both a 15W wireless charging pad built-in & a 5W USB Type-C output for other mobile devices. Rest easy and wake up fully recharged.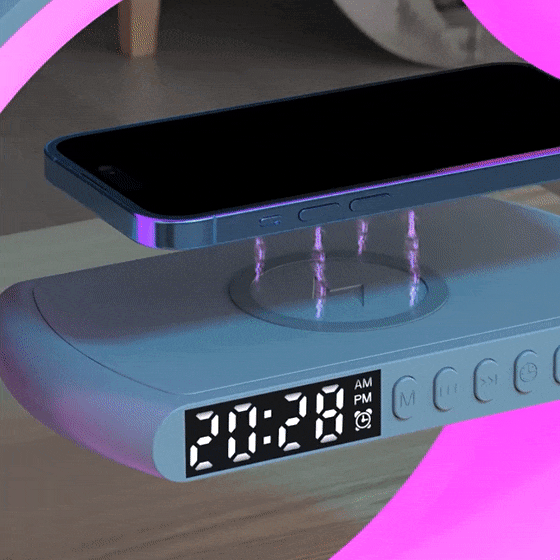 AESTHETICALLY PLEASING DESIGN
Smart Ambiance Lamp calms and relaxes and has a stunning visual aesthetic. Its G-shaped design perfectly complements its colorful lighting effects and becomes a beacon of shining light in any setting that draws attention with mesmerizing beauty.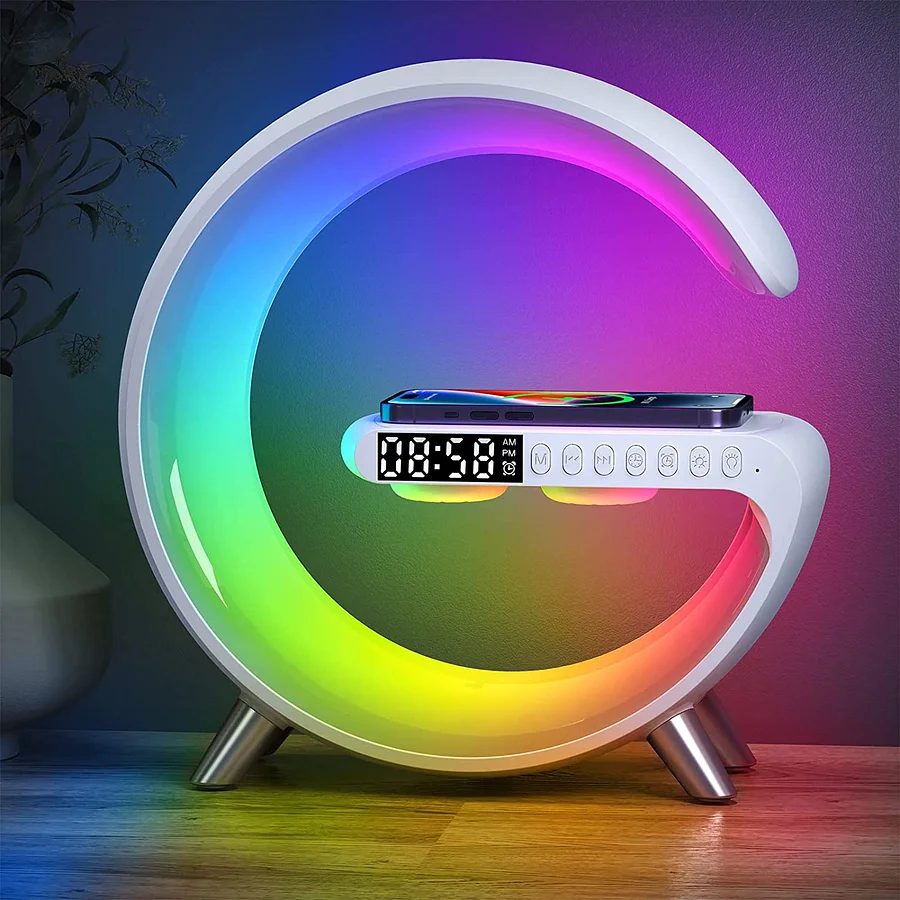 ILLUMINATE OUTDOOR AMBIENCE AND MORE
It can travel when you want to enjoy your home's outdoor space with family or a trip to the park. It's compact and lightweight at only 700g and can be powered by USB Type-C input, making great lighting for camping in the evening or setting the mood for outdoor dining in the backyard.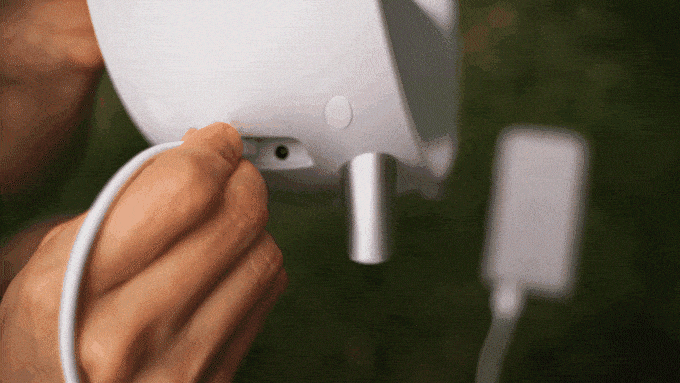 SPECIFICATIONS
Color:

 

White, Black, Gray
Material:

 

ABS, PC, Metal
Communication Mode:

 

Wi-Fi (2.4G)+ BLE module
Control Mode:

 

Button control, APP control
Input:

 

Adapter 24W (12V 2.5A), DC input
Output:

 

Type-C output (5V 1A)
Power:

 

24W (MAX)
Speaker:

 

3W
Weight:

 

700g/1.5lb
Size:

 

22.9×8.4×23.1cm/9×3.3×9.1in
Wireless Charge:

 

Max 15W( maximum transmission distance: 3-8mm)
Working Environment:

 

Temperature:0-45℃ Humidity:0%~80%RH
Storage Environment:

 

Temperature:-20-65℃ Humidity:0%~90%RH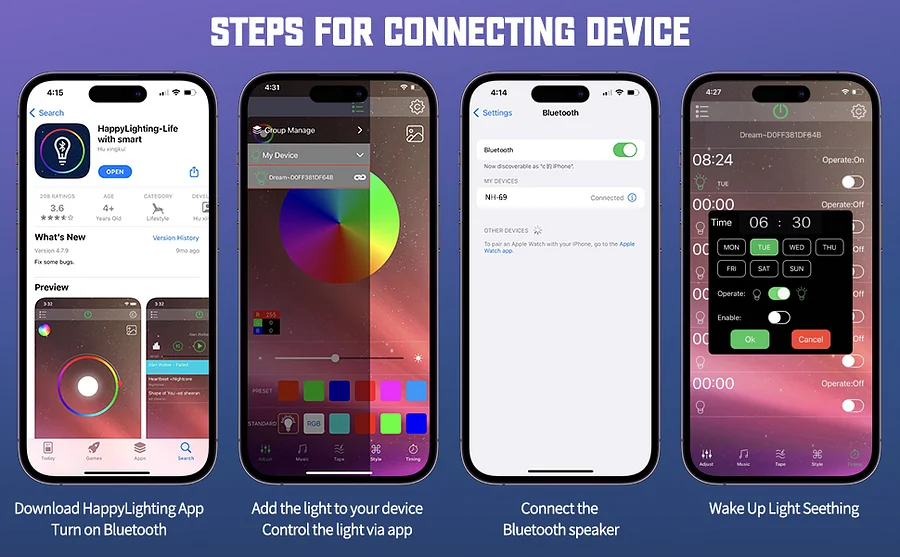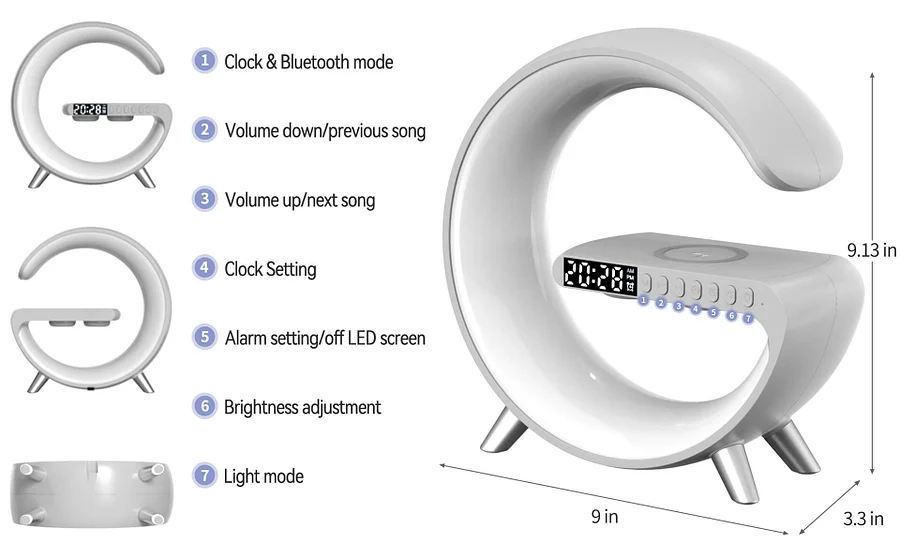 PACKAGE INCLUDES
1×Soul Therapist Smart Ambiance Lamp
1×USB Power Cord
1×User Manual
1×Adapter
Share
View full details
The product arrived 12 days after the order, much earlier than the expected arrival. Very good package arrived in perfect condition. Very beautiful to look at and all working. Unique Note negative the plastic is not quite excellent quality and could use a little harder. However, it is beautiful to look at.
Fast shipping in Toronto. Make sure to ask the seller to send you the power adapter to make sure this device works properly.